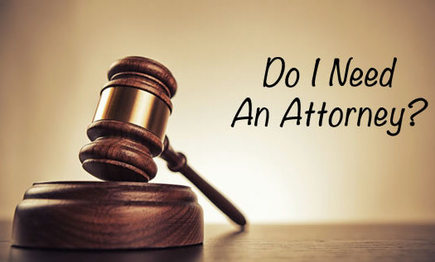 I'm often asked if a person needs an attorney to represent them in a law-related matter. As a general rule, you should consider hiring an attorney if you care about the outcome of your case.

The longer answer is that it depends on what you are dealing with and the complexity involved. If you are dealing with a relatively straightforward matter that is uncontested where the parties agree on what should happen, you might be okay representing yourself, but you should understand the consequences of your actions before you make the decision to go it alone. If you decide to represent yourself, you will also be expected to know the applicable rules of court and held to the same standards as an attorney.

There are few matters that you should handle on your own, without the advice and guidance provided by an attorney. In criminal matters, you should hire an attorney if you are charged with a misdemeanor, gross misdemeanor, or probation violation where the potential punishment includes time in jail or prison. In civil matters, you should hire an attorney to represent you in contested matters, where both sides disagree about the outcome, and especially if the other party or parties in your case have an attorney. In short, you should consider hiring an attorney when there is a lot on the line.

I'll be the first to admit that I am biased here because I am an attorney and would like to have your business, if I am able to accept your case. Having an attorney on your side does not mean that you will automatically win, or that the attorney will see all of the complexities, nuances, and issues in your case. However, in my experience, most people who represent themselves will almost inevitably lose.

You will always benefit from having an attorney represent you, because the attorney will not only see and understand the issues involved but also be able to advise you about options available to you and the potential consequences of each option. Hiring an attorney may cost more than you would like in the short term, but the long-term cost of not taking action now can be much greater.

Baland Law Office, P.L.L.C. represents clients in both civil and criminal matters, and will meet with you to discuss your case and available options. The fee for such a meeting is $150, and most meetings last 30 - 45 minutes. Please call (763) 450-9494 to schedule an appointment to discuss your situation today!

WARNING: The information contained in this blog post does not constitute legal advice and may not be applicable to your situation. Tim is licensed to practice law only in Minnesota, and the information contained in this blog post may not apply to jurisdictions outside of Minnesota. Further, reading this blog post does not create an attorney-client relationship between you and Baland Law Office, P.L.L.C. You should always discuss your situation with an attorney before taking any action based on what you may read in this blog. To that end, please call (763) 450-9494 to set up an appointment to discuss your situation.