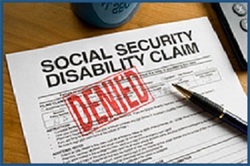 I am often asked whether a person should apply for Social Security Disability benefits or appeal a denial if that person is working. The short answer is that it depends on whether you are able to engage in Substantial Gainful Activity, or SGA for short. In order to be considered disabled under Social Security's rules, you cannot engage in SGA. If you can perform SGA, by definition you are not disabled.


Generally, you engage in SGA for any month that you have more than $1,040 in gross earnings. If you earn less than that amount, and can prove that you earn less than that amount, then you should probably apply. In deciding whether or not you are eligible, Social Security will look at the work you have done in the past, and ask whether you can do that work, or have any transferrable skills that would help you perform less active work.


If you have applied for but been denied Social Security Disability Benefits, but are now working and grossing more than $1,040 per month, then you are in a unique position. Basically, you were disabled at the time you applied for benefits, but now you are not eligible because you are considered to be performing SGA. A person in this situation has options, and I would recommend meeting with a Social Security attorney to discuss your options.

Baland Law Office, P.L.L.C. represents applicants for social security benefits at all stages of the application and appeals process. Please call (763) 450-9494 to set up an initial consultation to discuss your case and options.

WARNING: The information contained in this blog post does not constitute legal advice and may not be applicable to your situation. Reading this blog post does not create an attorney-client relationship between you and Baland Law Office, P.L.L.C. You should always discuss your situation with an attorney before taking any action based on what you may read in this blog. To that end, please call (763) 450-9494 to set up an appointment to discuss your situation.