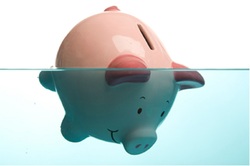 I am often asked when a person should consider filing for bankruptcy. Generally, if a person has one or two debts, I recommend trying to negotiate a more favorable payment arrangement with the creditor. However, if a person is drowning in debt and is constantly being harassed by debt collectors, then bankruptcy may be an appropriate option to consider.

There is no bright line or amount of debt that you have to have in order to qualify to file bankruptcy. Lots of people just like you are in the same situation, where there is too much month and not enough money. Bills keep piling up, and debt collectors keep calling and sending threatening letters. Perhaps you have even been sued by a debt collector. That happens sometimes.

I help people just like you to get bankruptcy relief under the law. Everybody's situation is unique, and everybody deserves special attention. Please give me a call at (763) 450 – 9494 to discuss your specific situation and needs. Also, please mention that you read this blog post to receive a free consultation. Normally, I charge $150 (in 2015) for a consultation, but will waive that charge for readers of this blog.

Baland Law Office, P.L.L.C. represents consumer debtors and small businesses in both Chapter 7 and Chapter 13 bankruptcy proceedings. Please call (763) 450-9494 to schedule an appointment to discuss your situation today and find out whether declaring bankruptcy is the right option for you!

DISCLAIMER: Baland Law Office, P.L.L.C. is a debt-relief agency, and Timothy H. Baland, Esq. is a debt-relief agent. We help people like you to obtain bankruptcy relief.

WARNING: The information contained in this article does not constitute legal advice and may not be applicable to your situation. Reading this blog post does not create an attorney-client relationship between you and Baland Law Office, P.L.L.C. This blog post may constitute attorney advertising. Further, Tim is licensed only in Minnesota state and federal courts, and the information that is provided here is applicable only to those jurisdictions. You should always discuss your situation with an attorney before taking any action based on what you may read in this blog. To that end, please call (763) 450-9494 to set up an appointment to discuss your situation.