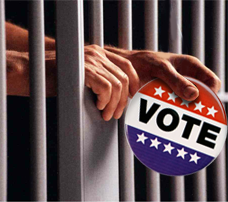 Should inmates in prison be allowed to vote? Currently,in Minnesota,
Minn. Stat. § 609.165 prohibits felons from voting while in prison.
Here is a link to the statute:
https://www.revisor.mn.gov/statutes/?id=609.165
However, the same statute restores the right to vote upon discharge of the felon's sentence. In other words, a felon in prison,on probation or parole has to wait until the discharge of their sentence in order to be able to vote.
This is an issue which is near and dear to my heart because I spent several years working in the state prison system in Minnesota.I tend to think that most inmates are extremely manipulative, but do not know if prison made them that way or if the inmates were manipulative before they went to prison.
Nevertheless,
I cannot think of any reason to deny a person a right to vote if that person is a felon, unless the conviction has something to do with voting, such as folder fraud.
The problems are largely practical and logistical, such as how voting would be organized in prisons, would prison guards have to supervise the voting process, and would candidates for political office campaign in prisons? Indeed, I am not sure that candidates for political office would even be allowed in a secure facility.
WARNING:
The information contained in this article does not constitute legal advice and may not be applicable to your situation. Reading this blog post does not create an attorney-client relationship between you and Baland Law Office, P.L.L.C. This blog post may constitute attorney advertising. Further, Tim is licensed only in Minnesota state and federal courts, and the information that is provided here is applicable only to those jurisdictions. You should always discuss your situation with an attorney before taking any action based on what you may read in this blog. To that end, please call (763) 450-9494 to set up an appointment to discuss your situation.