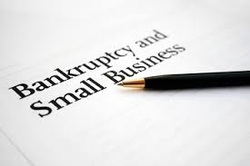 The short answer is yes, a small business can file for bankruptcy protection in the same way that a person can. A small business can file either Chapter 7, Chapter 11, or Chapter 13 bankruptcy, depending on whether
(1.) the business is an incorporated legal entity (such as a corporation or limited liability company)
(2.) you want to continue operating the business after the bankruptcy
(3.) you are personally liable for corporate debts; and
(4.) the amount and nature of the business' debts.
Chapter 7 erases most debt right away, but ends the business. In other words, the business ceases to exist as a legal entity, and all of its assets are sold and the proceeds distributed to creditors. Chapter 13 is not available to incorporated entities, but may be available to sole proprietors and qualifying partnerships. Chapter 13 puts you on a payment plan for a number of years.
With both Chapter 7 and Chapter 13, the business has to stop operating when the bankruptcy is filed. Filing Chapter 11 allows a business to continue operating and restructure debt, but is usually too cost-prohibitive, time-intensive, and uncertain to be a viable option for small business. Because Chapter 7 and Chapter 13 are more realistic options for small business, I'm not going to go into further detail about Chapter 11. For more information on the different types of bankruptcy, please see my earlier article on bankruptcy in this blog.
Business owners sometimes sign personal guarantees for business debt. This means that the business owner individually and personally promises to pay business debt in the event that the business does not. In such a case, the owner may wish to consider filing for bankruptcy as well because, if the business gets rid of the debt by filing for bankruptcy, the creditor will try to collect payment from the business owner.

Baland Law Office, P.L.L.C. represents business debtors and business owners in both Chapter 7 and Chapter 13 bankruptcy proceedings. If I think Chapter 11 is a better option for you, I will refer you to an attorney who specializes in Chapter 11. Please call (763) 450-9494 to schedule an appointment to discuss your situation today and find out whether declaring bankruptcy is the right option for you!

DISCLAIMER: Baland Law Office, P.L.L.C. is a debt-relief agency, and Timothy H. Baland, Esq. is a debt-relief agent. We help people like you to obtain bankruptcy relief.

WARNING: The information contained in this article does not constitute legal advice and may not be applicable to your situation. Reading this blog post does not create an attorney-client relationship between you and Baland Law Office, P.L.L.C. Tim is licensed in Minnesota stat You should always discuss your situation with an attorney before taking any action based on what you may read in this blog. To that end, please call (763) 450-9494 to set up an appointment to discuss your situation.