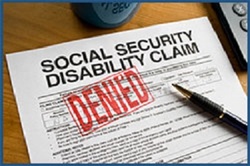 Applicants for social security benefits frequently ask if they should have an attorney represent them in the application and appeals process. From my perspective, the short answer is yes, for two reasons.

First, you typically hire the attorney on a contingent-fee basis of 25% of past-due benefits, or $6,000.00, whichever is less. That means that you don't pay any money out-of-pocket, except for expenses, and that the attorney does not get paid unless you prevail.

Second, the law related to social security benefits is mind-numbingly complex, and you need an attorney to navigate the maze of laws, regulations, and cases that govern social security, apply the law to the facts of your case, put the facts most favorable to you forward, and zealously represent you in your application and at all stages of appeal.

Some people want to file the application for disability benefits on their own, and then hire an attorney for the appeal. However, I do not think this is a wise course of action. You probably have a better chance of getting disability benefits with an attorney on your side than on your ownIt is to your benefit to hire an attorney before you submit a disability application. Your application will probably be better because you have an attorney, and although there is no guarantee that you will receive disability benefits, your application stands a better chance with an attorney than without.

So, you really have nothing to lose by hiring an attorney to represent you. Some people apparently believe that you should apply for social security benefits by yourself the first time, when you do the initial application, but then hire an attorney if your application is denied. I have to disagree with this notion, because you're better off with an attorney representing you from the beginning. The ultimate attorney fee might be less, but I'd rather see you qualify for benefits sooner After all, the focus is on you, not the attorney.

Baland Law Office, P.L.L.C. represents applicants for social security benefits at all stages of the application and appeals process. Please call (763) 450-9494 to set up an initial consultation to discuss your case and options.