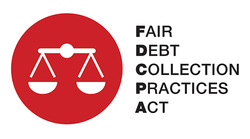 Attorneys who represent landlords and eviction hearings in Minnesota are being sued under the fair debt collection practices act, or FDCPA for short. However, there are several steps that attorneys can take to protect themselves from an FDCPA lawsuit.
A complete discussion of the requirements of the FDCPA is beyond the scope of this article. However, the FDCPA requires that a third-party attempting to collect a debt provide a "mini-Miranda" warning at an initial meeting with the debtor and follow-up with a 30-day validation letter within five days.
The "mini-Miranda" should say something to the effect that the debtor is having a communication with a debt collector and that any information obtained can and will be used to collect the debt owed. Within five days of the date of the initial communication, you should follow up with a 30-day validation letter, giving the debtor 30 days to dispute the validity of the debt, or to request confirmation of the identity of the original creditor, if it is not already been provided.
The FDCPA does not apply to landlords attempting to collect their own debt. In other words, the landlord does not have to comply with the FDCPA is the landlord issues its own notices, demands, etc. However, if the landlord has hired a collection agency to collect unpaid rent or a property management company to manage the properties, collect rent, etc., then that collection agency or property management company is a third-party and must comply with the FDCPA.
Based on the research I have done so far, this theory of liability originated in a case decided by the Federal District Court in the Southern District of New York, and subsequently affirmed by the Second Circuit Appeals Court in
Romea v. Heiberger & Associates
, 163 F.3d 111 (2d Cir. 1998)
For attorneys who represent landlords in eviction hearings, the theory is that the preliminary court hearing in the eviction is a "communication" with the debtor. Attorneys who represent landlords potentially violate the FDCPA, the theory goes, by not providing the "mini-Miranda" warning or by following up within five days with a 30-day validation letter.
I think there is a good argument to be made that:
1.
Romea
only applies to evictions in the Second Circuit and does not apply to Minnesota evictions;
2. evictions are all about the right to possession, not money – and therefore the FDCPA does not apply; and
3. the payment or nonpayment of rent in Minnesota and the Minnesota eviction action does not affect interstate commerce in the least, and that therefore Congress – and the Minnesota federal courts – are without jurisdiction.
Brighter minds than mine will figure this out, but in the meantime, I am – out of an abundance of caution – going to comply with the FDCPA by providing a "mini-Miranda" warning at the court hearing and by following up within five days with a 30-day validation letter.. I do not want to risk an FDCPA lawsuit.
Remember – the FDCPA does not apply to a landlord attempting to collect its own debt. As such, assuming that the landlord is the owner of the property, the landlord can continue to send notices and demands as always. The FDCPA comes into play only if the landlord hires a third-party, such as a property management company or debt collection agency.
Landlord attorneys who are served with an FDCPA lawsuit should immediately notify their malpractice carrier, and not attempt to defend the lawsuit on their own.
For more information about evictions and the FDCPA, I recommend that you visit:
https://sites.google.com/site/mnhousinglaw/ud-defense-manual/chapter-vi-defenses/e-nonpayment-of-rent/34-fair-debt-collection-practices-act-defenses
Thanks!
Every landlord – tenant situation is unique, and I recommend that landlords talk to an attorney experienced in evictions and landlord tenant law before taking action based on this blog post. To that end, I invite landlords to give me a call at 763-450-9494 to discuss their unique situation. The first thing I will ask you is what you want to have happen because, ultimately, the landlord is in control. I have represented many landlords, but typically do not represent tenants.
WARNING:
The information contained in this blog post does not constitute legal advice and may not be applicable to your situation. Tim is licensed to practice law only in Minnesota, and the information contained in this blog post may not apply to jurisdictions outside of Minnesota. Further, reading this blog post does not create an attorney-client relationship between you and Baland Law Office, P.L.L.C. You should always discuss your situation with an attorney before taking any action based on what you may read in this blog. To that end, please call (763) 450-9494 to set up an appointment to discuss your situation.