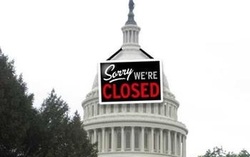 If you have filed or are about to file a bankruptcy petition, you are undoubtedly wondering what effect the federal government shutdown will have on your case. The United States Judiciary, which includes bankruptcy courts, issued the following statement in response to the partial federal government shutdown:
JUDICIARY OPEN DURING GOVERNMENT SHUTDOWNFollowing a government shutdown on October 1, 2013, the federal Judiciary will remain open for business for approximately 10 business days. On or around October 15, 2013, the Judiciary will reassess its situation and provide further guidance. All proceedings and deadlines remain in effect as scheduled, unless otherwise advised. Case Management/Electronic Case Files (CM/ECF) will remain in operation for the electronic filing of documents with courts.
More locally, the United States Bankruptcy Court for the district of Minnesota issued a similar statement, concluding with:
All proceedings and deadlines remain in effect as scheduled and CM/ECF will be available for the electronic filing and review of documents.
The question is how this affects you. The short answer is that it depends on whether you have already filed for bankruptcy, and if so, how far your bankruptcy case has progressed before the federal judiciary "reassess[es] its situation." Bankruptcy filers should expect:
Delays or cancellation of Meetings of Creditors

Delays in confirmation of Chapter 13 plans
Delays or cancellation of bankruptcy court hearings
If you have already filed for bankruptcy, then you can reasonably expect some delay in the processing of your case. Likewise, if you have not yet filed your bankruptcy petition, you should expect some delay, and you may not be able to file until the government shutdown has ended.
I suspect that debtors that have already had their Meeting of Creditors, are not reaffirming debts for personal property (such as an automobile) and have no other hearings scheduled in bankruptcy court will experience less delays than debtors whose cases have not progressed so far and do not meet these criteria. However, if the federal judiciary, including bankruptcy courts, shuts down, then all cases could come to a complete halt.
Still, these potential outcomes and conclusions are only speculation -- and pretty rampant speculation at that -- on my part. The best course of action is probably to wait for an announcement from the United States Judiciary on October 15, 2013 as to what it is going to do. I will update this post as appropriate, so please check back for future updates.
Baland Law Office, P.L.L.C. represents consumer debtors in both Chapter 7 and Chapter 13 bankruptcy proceedings. Please call (763) 450-9494 to schedule an appointment to discuss your situation today and find out whether declaring bankruptcy is the right option for you!
DISCLAIMER:
Baland Law Office, P.L.L.C. is a debt-relief agency, and Timothy H. Baland, Esq. is a debt-relief agent. We help people like you to obtain bankruptcy relief.
WARNING:
The information contained in this article does not constitute legal advice and may not be applicable to your situation. Reading this blog post does not create an attorney-client relationship between you and Baland Law Office, P.L.L.C. You should always discuss your situation with an attorney before taking any action based on what you may read in this blog. To that end, please call (763) 450-9494 to set up an appointment to discuss your situation.